Newest, beautiful, single women now added for week of Wednesday, 1 February, 2023 - Tuesday, 7 February, 2023
Your opportunities here are truly worldwide. Explore our site deeply to see how you can realize that!
Chinese Culture | Basic Social Etiquettes to Remember While in China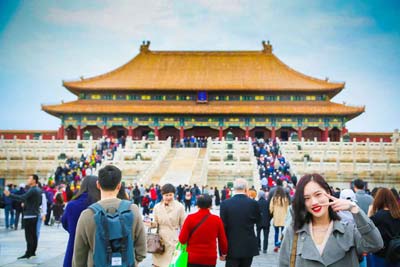 It's clear that Chinese culture is drastically different from American and Western culture, in general. The differences become even more apparent when you interact with the locals. And if you aren't cautious, you might end up offending some of them. If you are planning to join one of our singles tours in Shenzhen, China, better learn what behvaior, gestures and language are deemed acceptable and unacceptable in Chinese norms.
Shake hands when meeting someone for the first time.
This is actually a common greeting in China. When you shake someone's hand, don't apply too much pressure because it might be mistaken for a sign of aggression. But if you are about to meet someone much older, make sure that you greet them with a nod along with the handshake. It's important in China to regard people accordingly, which is why the right greeting is important.


Receive gifts with both hands.
Chinese people regard this gesture as a sign of respect. After you've received the gift, do not open it right away. For the locals, that would signify you value the gift more than the person who gave it to you. Instead of opening it, say your thanks and keep it away for the time being. Lastly, and this might sound strange, do not accept a gift outright. Make a show of turning down the gift first before eventually accepting it. And expect the same behavior when you give a Chinese woman a present.


Use honorifics or titles.
When addressing or greeting someone, do not use the person's first name without permission. If the person doesn't hold a title, a standard mister or miss will do. The title serves as a sign of acknowledgment of the person's worth.


Answer their questions—even when they're deeply personal.
Generally speaking, Chinese people are curious by nature, more so when you're a foreigner. So don't be alarmed or offended when they ask you really personal questions. Their line of questioning has nothing against you. They are simply more direct and blunt when it comes to getting to know people.


Foot the bill when your companion/s are younger than you. When it comes to the bill, it's common practice for the oldest to pay for it. If not the oldest, at least the host (or whoever invited or organized the event) should pay. Splitting the bill is considered a taboo in Chinese culture. This is only acceptable if you are in a group of people of the same age.


Be on time for any event.
What's better than arriving on time? Showing up early. The point is that tardiness is a big no-no even in today's modern Chinese culture. Chinese people value their time and strive to spend it wisely. One of the biggest offenses would be arriving late because you would be wasting someone else's time.
So whenever you go around and visit Shenzhen attractions, make sure to follow these etiquette rules to avoid stepping on anyone's toes. Observing these rules also helps you make a great impression among Chinese women.
If you are interested in meeting, dating and ultimately settling down with a Chinese woman, simply join our singles tours to Shenzhen, China and meet your future bride.

Newest, beautiful, single women now added for week of Wednesday, 1 February, 2023 - Tuesday, 7 February, 2023
You have to meet the women to marry them! What other international dating site offers you numerous opportunities to do that?