Newest, beautiful, single women now added for week of Wednesday, 1 February, 2023 - Tuesday, 7 February, 2023
Your opportunities here are truly worldwide. Explore our site deeply to see how you can realize that!
Getting to Know Shenzhen | 5 Reasons to Visit Shenzhen China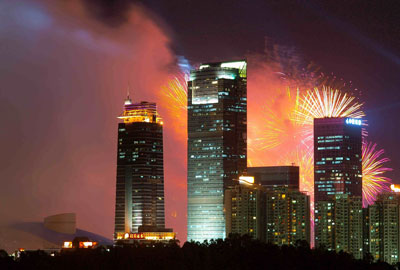 Shenzhen China is rapidly becoming recognized as a premier tourist destination. It's no longer just known as a gateway to Hong Kong. This rising interest is mostly because it is a melting pot of different cultures. And their vibrant culture is reflected in their architecture, clothing, and even cuisine.
If you are interested in visiting China, then Shenzhen City is one of the best places to introduce you to the country. There is enough Western influence that you won't totally feel alienated but still retain some rich history and culture worth experiencing. Just how distinct is Shenzhen compared to other cities in China? Here are some interesting facts that might entice you to visit:
Lots of greenery

Shenzhen is one of the most rapidly developing cities in the country. In fact, it has some of the tallest skyscrapers in China. But another thing you'll notice is the streets are lined with trees and there are plenty of parks. This is because Shenzhen's urban planning department wanted as much green as possible to offset the country's pollution problem. As a result, the city has some of the cleanest air in the country.



Bargains galore for electronic gadgets

Do you need a new phone? Then head to SEG computer market and you'll find all sorts of smartphone models. This market is the biggest and considered the best in the world for selling electronic goods. Aside from phones, you'll find the world's leading suppliers of software and electronic hardware products. Whatever electronic device you'll need, you'll definitely find it in Shenzhen.



Theme Park capital

Among the most popular Shenzhen attractions are its theme parks. Unlike regular theme parks, theirs reflect the best of Chinese culture. Four of the most famous parks are Splendid China (has replicas of some of the most well-known places in China), Window of the World (similar to Splendid China but they have replicas of landmarks from other countries), Happy Valley (a children's amusement park that promotes health and wellness), and Chinese Folk Culture Village (a park that highlights the different ethnic groups in China).



Cleanliness is a must

Because of the rampant air pollution throughout the country, locals and tourists alike are required to monitor their pollution levels. They even have an air quality index to guide you. Visiting the city is one way to make more environment-friendly choices and put them into practice.



Cantonese cuisine reigns supreme

Not many people know that Shenzhen is also a haven for great food. Because it is a migrant city, Chinese from other provinces have brought their traditional dishes all the way to Shenzhen. But out of all of them, Cantonese remains the most popular. For a hearty breakfast, have your fill of a bowl-full of congee. In the afternoon, crave your hunger with several helpings of Dim Sum.
With the perfect blend of traditional and modern Chinese culture, one can say that Shenzhen represents the best of China. But aside from its rich history and culture, not many people know that the city is home to some of the most beautiful women in the world. If you are eager to find a life partner, join one of our singles tours to find your ideal bride.

Newest, beautiful, single women now added for week of Wednesday, 1 February, 2023 - Tuesday, 7 February, 2023
You have to meet the women to marry them! What other international dating site offers you numerous opportunities to do that?