Newest, beautiful, single women now added for week of Wednesday, 1 February, 2023 - Tuesday, 7 February, 2023
Your opportunities here are truly worldwide. Explore our site deeply to see how you can realize that!
Talking to Chinese Women | Useful Chinese Phrases to Remember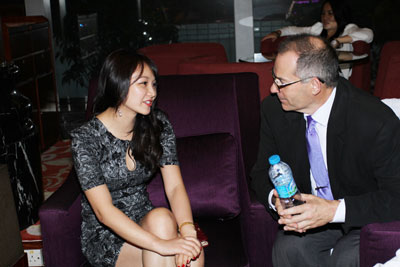 You can learn a lot about Chinese culture by learning a phrase or two. It helps you understand just how they communicate and interact with one another and with other people. More importantly, the locals are more open to help you out if you make an effort to speak in their language. This makes exploring China so much easier and also impresses its lovely women. While modern Chinese culture is much more welcoming to foreigners, still there's no harm in learning some Chinese words and phrases, especially if you want to meet single Chinese girls while you're there.
To help you increase your odds of bagging a date with a single Chinese woman, these phrases could help you communicate with them better:
How are you?
(Ni hao ma?) [Pronunciation: Nee how ma]

This is also considered the standard greeting in China (like when you're saying hello to someone). The standard response to this question is "Wo hen hao," which translates to "I'm fine." You can say this to virtually anyone and they would greet you the same way. It's also a nice way to start a conversation with Chinese women.


Thank you
(Xie xie) [Pronunciation: Shyeh shyeh]

When you are grateful to someone this is what you say to them accompanied by a slight bow. This is essentially the equivalent of thank you in English.


I'm sorry
(DuÌbuquĭ) [Pronunciation: Dway boo chee]

Although the literal translation is quite different ("I didn't begin correctly"), but this is what most Chinese people say when they're sorry. However, you can also say this when you want the person to repeat something he or she said.


What is . . . ?
(Zhè shÌ shénme . . . ?) [Pronunciation: Jer sher shun muh]
If you need to know what a specific word means, this is the phrase you begin with. You can also use this phrase whenever you see something you haven't seen before. All in all, there are plenty of ways you can use this phrase to learn more about the Chinese language and culture.


Where is . . . ?
( . . . zài nălǐ?) [Pronunciation: Dzai naa lee?]

If you need directions, just say the name of the place you're looking for followed by this phrase. But in order for this phrase to work, you also have to say the place you're looking for in Chinese.


I want to go to . . .
(Wǒ xiăng qù . . . ) [Pronunciation: Wor shyang chiu]

This phrase is useful when you are riding public transport. Say this phrase first followed by the place you want to go. This is another way of asking for directions from locals. To avoid sounding rude, make sure to thank the person after telling you where to go. That way, you sound more like requesting instead of ordering.


Good or bad?
(Hăobùhăo?) [Pronunciation: How boo how]

The literal translation is actually "Good? Not good?" So if the person answers "Hăo," it means good. On the other hand, if the person answers "Bùhăo," that means no good. You can ask this question when you want to know the quality of something. For example, if you want to try an exotic dish but you're not sure if you'd like the taste, you can ask this question.
These phrases would definitely help you meet women in Shenzhen. Whether you meet women online or in person, the point is that these phrases can help you interact with some lovely Chinese ladies.
The best way to master a foreign language is by constantly talking to a native speaker. So why don't you sign up for free here on our site now to chat with, meet and even date lovely single Chinese girls and practice your Mandarin?

Newest, beautiful, single women now added for week of Wednesday, 1 February, 2023 - Tuesday, 7 February, 2023
You have to meet the women to marry them! What other international dating site offers you numerous opportunities to do that?