Newest, beautiful, single women now added for week of Wednesday, 25 January, 2023 - Tuesday, 31 January, 2023
Your opportunities here are truly worldwide. Explore our site deeply to see how you can realize that!
Your Guide on Where to Meet Single Chinese Women in Shenzhen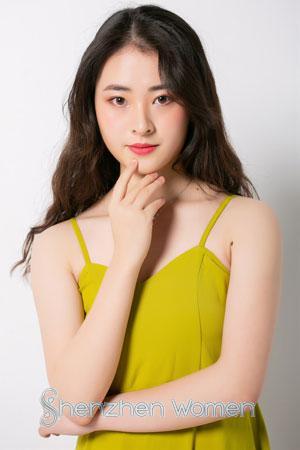 With a GDP (gross domestic product) of $234.131 billion, the city of Shenzhen ranks 4th among the richest cities in China. Standing at the forefront of the Chinese economic spur, Shenzhen is also the stomping ground of over 10 million people who dream of making it big someday. It is often where the best and brightest of China choose to plant their roots in.
This lucrative industrial hub is often only known as the home of the biggest Chinese corporations, businesses, and factories. Not a lot is said about the beautiful Chinese women who also call the city home.
While there is no empirical data to substantiate the claim, the general consensus points to Shenzhen as among the few major cities in China where the most stunning singles can be found. Considering that the sudden surge in Shenzhen's population has been due to the influx of people coming from different parts of China and Asia, it's really hard to doubt that assertion.
Although you would most likely come across a beautiful Chinese girl just by merely walking the streets of Shenzhen, it still pays to know where you can usually meet a whole bunch of them. Below is a list of the best places to meet gorgeous single Chinese ladies in Shenzhen:
McCawley's Irish Bar & Restaurant
McCawley's offers a wide range of imported beers along with a combination of international and traditional Chinese cuisine. Their extensive selection of beers is, of course, highlighted by Ireland's world-famous Guinness.

Due to its laidback atmosphere, this is where you'll usually find career-oriented Chinese girls capping off a hard day's work.


Xpats Bar & Grill
A staple hangout place for expats and foreign tourists in the Futian District, Xpats Bar & Grill is known for serving authentic spirits and beverages. On top of that, their gourmet burgers are also known to be quite a gastronomic delight as well.

For a foreign guy like you who's on the hunt for a match, you might have an easier time meeting a girl here because most Chinese women who visit the place are very much open to an international love affair.


International dating sites
If you want to save yourself the hassle of trying your luck out in pubs and bars in search of a girl to date, taking your hunt online might be your best bet. International dating sites like www.shenzhenwomen.com can get you connected to hundreds, if not thousands, of Chinese women in Shenzhen who are also looking for a foreign man as a potential match.

The best thing about making use of sites like www.shenzhenwomen.com is that before you even fly out to Shenzhen, you can already be sure that there will be a beautiful woman waiting for you there.


Shenzhen Central Park
On a bright sunny day, Shenzhen Central Park can leave you in awe with its aesthetically beautiful and picturesque landscape. It isn't considered to be one of the top Shenzhen attractions for no reason. This is where families and groups of friends usually come together to spend time with each other.

Although approaching girls in such a setting is a little riskier compared to other places, if you play your cards right, there's no reason why you can't get a few girls' numbers.
Shenzhen is indeed abundant with beautiful women. Anywhere you look, you'll most likely see a girl who can make your jaw drop. It's no wonder why singles vacation is slowly becoming such a lucrative industry in the city.

If you want to have a hassle free trip to Shenzhen where your itinerary, accommodation and date arrangements are already taken care of, check out our singles' tour schedule now to get you started with your quest for love in Shenzhen.

Newest, beautiful, single women now added for week of Wednesday, 25 January, 2023 - Tuesday, 31 January, 2023
You have to meet the women to marry them! What other international dating site offers you numerous opportunities to do that?