Newest, beautiful, single women now added for week of Wednesday, 27 September, 2023 - Tuesday, 3 October, 2023
Your opportunities here are truly worldwide. Explore our site deeply to see how you can realize that!
Getting to Know Chinese Women Better Through Their Culture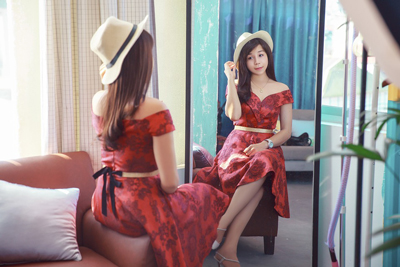 Chinese culture is one of the most diverse and ancient cultures in the world. Known as the oldest in the world, China's culture is deep-rooted, and is evident in its traditions and customs. Shenzhen city, a city located in the Southeastern part of China, is home to petite Chinese women who have become a worldwide favorite for men looking to meet foreign women.
Standing at an average of 5 feet and 2 inches tall, a Shenzhen woman boasts a warm smile that is accented by a set of cute, small eyes that enthrall most western men. Beautiful Chinese women have become a common sight the world over. It is commonplace to see Shenzhen women marrying foreign men as more and more men are seeking Chinese singles.
The role of women in China has always been to serve her husband and make her family happy. Family is important for Shenzhen women. They value their family, and their lives revolve around them.
Before deciding to date a Chinese woman, it is necessary to understand and learn about the cultures that make China different from the rest of the world. To name a few, here's a shortlist of these well-known Chinese cultures and traditions:
Religious

The people of China are known to be a religious group. Mostly practicing Taoism, Confucianism, and Buddhism, this group of people have built temples all across the country to worship according to the teachings of their religion.



Porcelain

One of the most well-known contributions of Chinese culture that has stood the test of time is their knack for making porcelain dishes and kitchenware. This is the reason why porcelain plates are commonly known as "China". In the past 900 years, China has been famously known for producing porcelain, even trading produce, and other products for their porcelain wares.



Language

Dating younger women in Shenzhen can be a bit of a hassle when you are faced with a communication barrier due to a language gap. The Chinese language is one of the oldest in the world. It is composed of hundreds of complex characters that may take a casual learner years to understand.



Tea

Tea is China's national beverage. Just about every corner of the country boasts traditional herbal tea made the traditional way. It is important to remember that a simple tea date with a Shenzhen woman might just be what you need to impress her. Even famous Chinese women are known to love tea.



Food

China is also known for its spices. With that said, Chinese food is different for your palette. There is no such thing as too much spices in China, and as such, you may find that the food on your date may be too much for your taste. It is therefore important to understand Chinese food before heading out to the nearest restaurant in Shenzhen for a date with beautiful Chinese women.



Festivals

The Chinese people are known to throw extravagant festivals. These celebrations usually involve traditional clothing, lamps, and dragons. People usually dance while Chinese festival music plays in the background.
Knowing these will certainly be a big help when you are trying to date a Shenzhen woman. This gives you a glimpse of what makes her Chinese heritage unique and colorful. You could use this list as a conversation opportunity to get to know your date better. Register now on our site and meet hundreds of Shenzhen singles.

Newest, beautiful, single women now added for week of Wednesday, 27 September, 2023 - Tuesday, 3 October, 2023
You have to meet the women to marry them! What other international dating site offers you numerous opportunities to do that?